Mesonet Operations
FRD is not only expert at installing instrumentation, but also in establishing networks of metetorological monitoring towers and associated sensors (mesonet). In a mesonet, the instrumentation must be carefully selected to permit a coordinated remote collection of data from the various sensors. The data are collected into a central repository through phone lines, radio frequency telemetry, or various other means and displayed in real-time for emergency responders or experiment directors.
Over the years, we've installed and operated numerous mesonets in support of various tracer and other meteorological studies. Perhaps one of the most extensive mesonets we installed was the 43-station mesonet for the San Joaquin Valley Air Quality Study. Smaller mesonets were installed for the Utah County Carbon Monoxide Study and the Central California Ozone Study.
FRD has continuously observed and recorded meteorological conditions at the Idaho National Laboratory (INL) and its environs since it first opened its doors in 1948. That's more than 65 years of experience with mesonets. We now manage the 34-station, technologically advanced, INL Meteorological Monitoring Network (Mesonet). The network includes advanced hardware and software, meteorological towers, radio telemetry, a 915-MHz radar wind profiler and radio acoustic sounding system (RASS), and an H2O & CO2 eddy correlation flux system. The network provides the high quality data and information necessary to meet a wide range of research and regulatory requirements. More information on the INL Mesonet can be found here.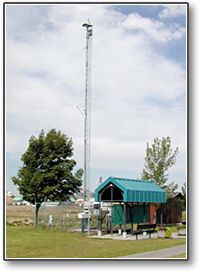 15 m meteorological tower on the Idaho Falls greenbelt, part of the INL Mesonet.