Apogee IR temperature sensor.
Solar Radiation
Solar radiation is sensed with a precision Licor LI200X. This pyranometer measures incoming solar radiation with a silicon photovoltaic detector mounted in a cosine-corrected head. This pyranometer is calibrated against an Eppley Precision Spectral Pyranometer to accurately measure sun plus sky radiation to within 2% over a broad temperature range. This sensor weighs only one ounce and is less than one inch in diameter. This small size allows the sensor to be easily mounted on the balloon top-plate.
Rain Gage
Because the smart balloon's weight is affected by rain, a miniature precipitation gage is mounted on the top plate of the smart balloon. This helps improve general understanding of the balloon's behavior and helps in predicting the necessary altitude control actions that need to be initiated.
The miniature rain gage is built into the top plate of the balloon allowing the gage to measure up to 15 inches of precipitation before it is full. A small pressure transducer in the base of the rain gage converts the water column pressure to total rain. Because vertical balloon motion shows up as changes in the water column pressure the data is processed through a low pass filter to remove high frequency noise caused by turbulence and motion.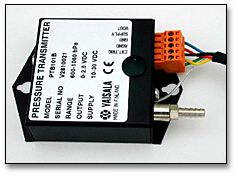 Barometric pressure transmitter
Barometric Pressure, Temperature, and Relative Humidity
A Vaisala model PTB101B pressure transmitter was selected for accuracy, small size and low power requirements. The pressure range of this sensor is 600 to 1060 millibars. Total accuracy is ±2 millibars, with a linearity of ±.45 millibars and a hysteresis and repeatability of ±.05 millibars. This pressure sensor uses only 4 milliamps when active and can be turned off between measurements. Temperature dependence of the output is rated at ±.05 millibars per degree centigrade. Altitude accuracy is improved by processing the GPS altitude data and barometric pressure altitude data through a low pass filter to provide a correction to the real-time barometric pressure altitude.
Temperature and humidity measurements use an aspirated temperature shield inside the transponder and a high quality Vaisala HMP45C temperature and relative humidity probe. The radiation shield is made of thin wall copper tubing and aluminum with an aspirator fan pulling 250,000 cubic centimeters per minute past the probe continuously. The air is isolated from other instruments inside the transponder to protect them from condensing moisture and possible sea salt.
Temperature accuracy for the probe is within ±.4 degrees centigrade and a resolution and repeatability of ±.05 degrees centigrade.
Relative humidity accuracy is within ±3% over the full range of 0 to 100% relative himidity. Resolution and repeatability of the relative humidity are ±.05%. The long term stability of the relative humidity portion of this probe is better than ±1% per year.